For a good ten minutes when we got in the car I couldn't shut up.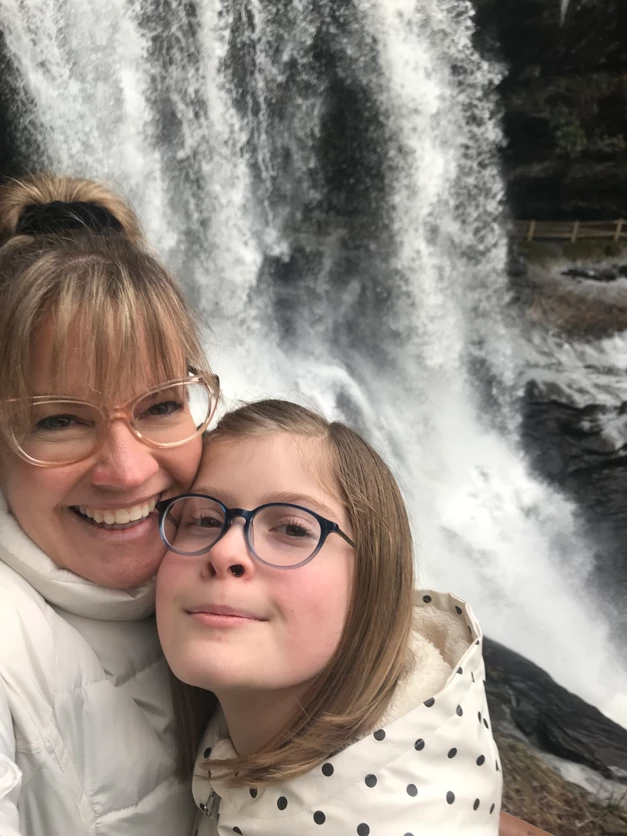 "Oh wow. That was amazing. Holy moly wow so cool." (Because I'm so good with the words.) It took awhile for my brain to step out of the stupefaction and back into coherent thought.
We had just visited Dry Falls in the Nantahala Forest just outside Franklin, North Carolina. Tucked deep in the beautiful Blue Ridge Mountains, it was stunning even in midwinter.
Don't let the name fool you. These falls are not dry at all – at least not at this time of the year. It was a torrent, a great white cascade, a thing of beauty. Colossal icicles hung on the rocks overhanging high above us on the trail, and every now and then we'd hear a great crash as they careened down and shattered before or after us. We didn't realize we'd be taking our lives into our own hands on this little adventure!
Keeping one eye above and one on the trail, the kiddos were at least kind enough to check if I was okay when I slipped on the ice. Before they started snickering, of course. I rolled my eyes, picked myself (and my wounded dignity) up off the ground, blessed the guard rails, and cautiously moved forward.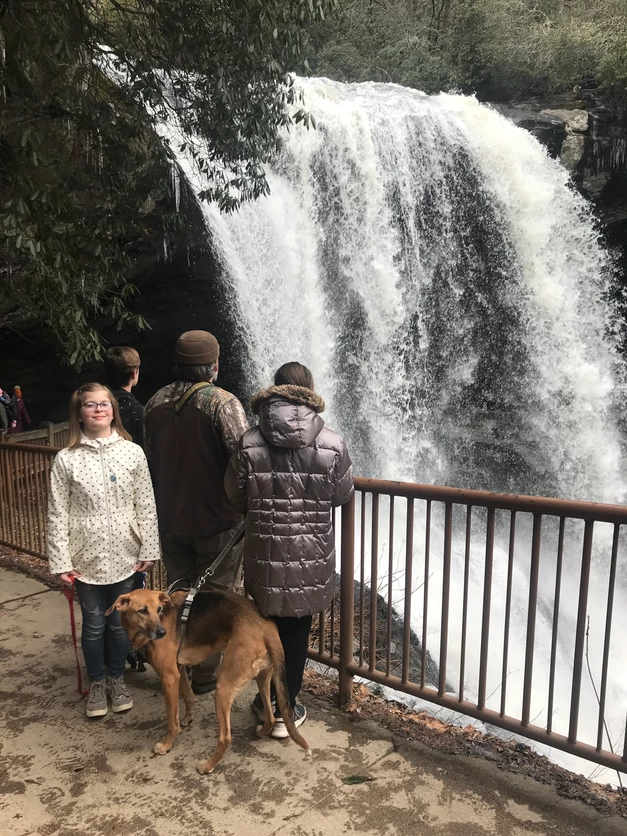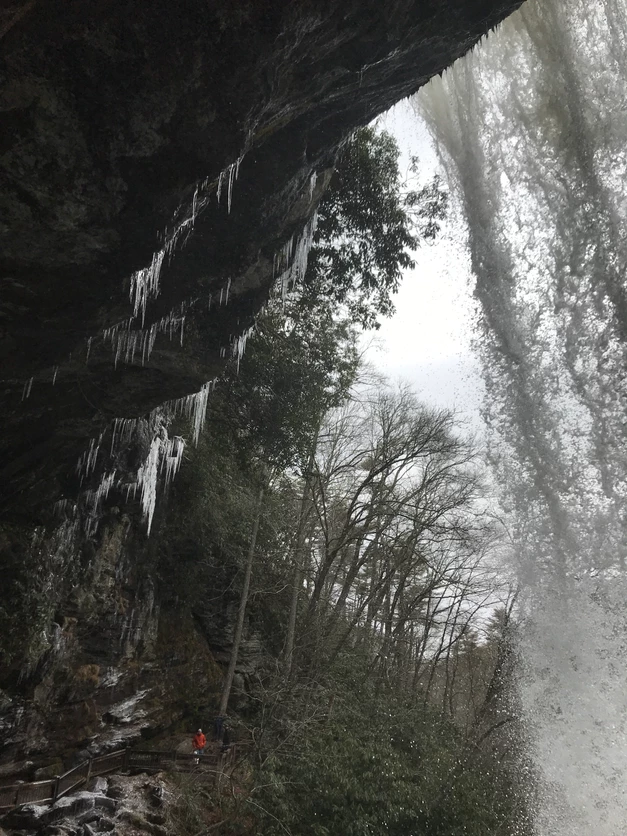 The experience awaiting us as the trail wound tightly behind the falls far outweighed the inconveniences of winter dangers and mishaps. The roar, the great white curtain of force, the splendor of that moment. It was otherworldly.
Any thoughts of future or past fled as we stepped into the semi-darkness behind the falls and breathed the icy mist into our racing lungs. Sunlight sparkled through the blinding cascade, bouncing off each droplet as it plummeted before us. Our whole world was this moment. We could hardly think of anything else.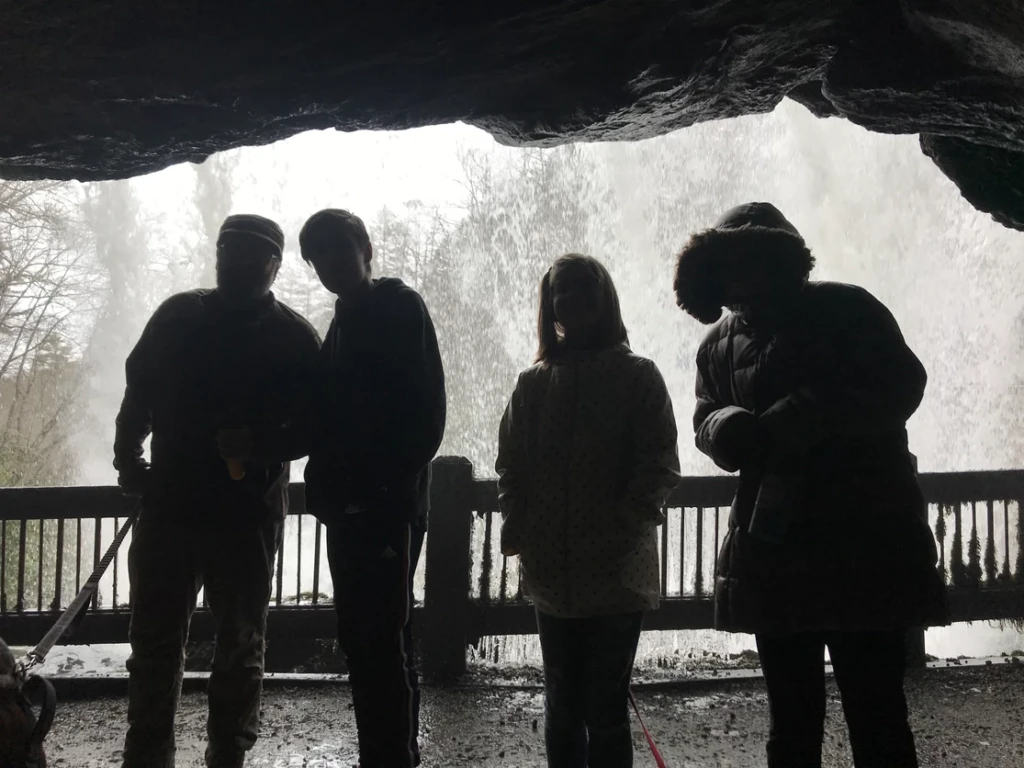 The dogs were in a frenzy of sensory overload. They didn't like it at all. But we sure did. It was thrilling!
We stepped out from under the falls just in time for another set of icicles to come crashing down ahead. We paused again to look back at the falls, to marvel at the tall, iced-over grasses, juxtaposed against bright green mossy rocks. Winter seemed to battle spring in this dramatic moment, the victor yet to be announced.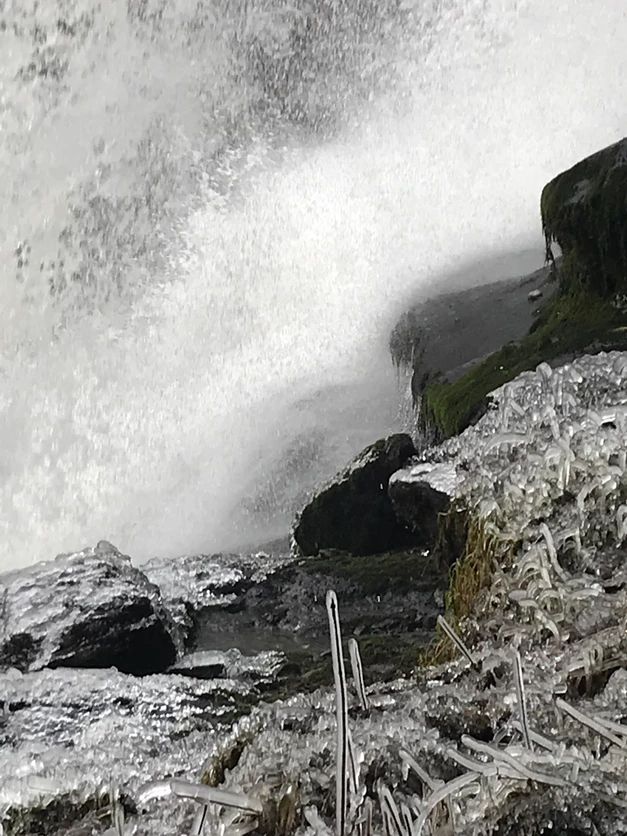 The trail ends there, so after a long, breathless linger, we trekked back behind the falls again with glee. Shaking ourselves off, we then shivered our wet way back up the hillside switchback steps.
If you're visiting the Blue Ridge Mountains, Dry Falls is a must, any time of year. It's a long winding road up from Franklin, and you may find yourself wondering if it's worth the time. The verdict from our family? It most definitely is.
Don't expect a big hike on this trail. It's VERY short – doesn't really even earn the name "trail", as it's paved and has steps, and is well under a quarter mile, I'd think. But there are a lot of steps, so be mindful of that if anyone in your party cannot navigate them. The view from the parking area is beautiful as well, and there are benches on the overlook.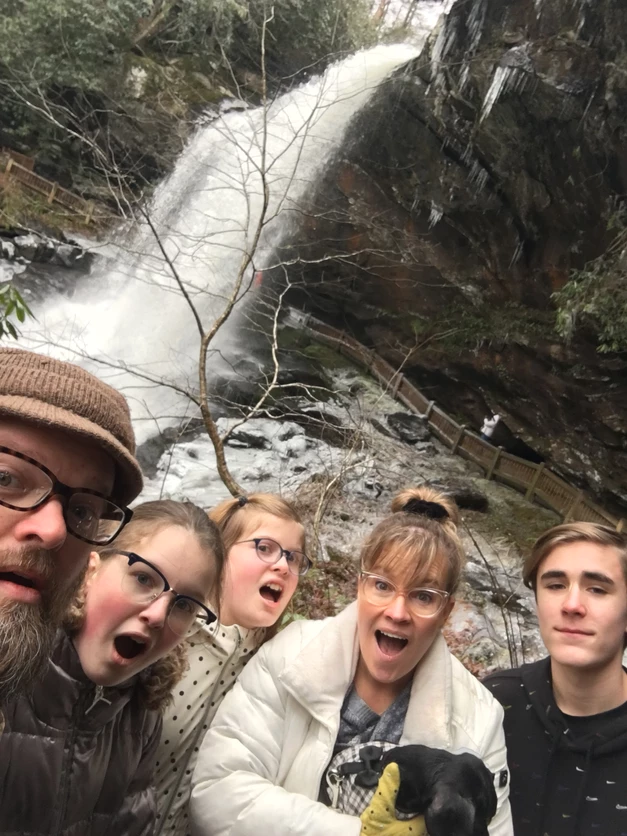 Tranquil Traveler's Tip:
We recommend the AllTrails app to hunt down other trails nearby. There are countless more rugged options around here for every skill level, at varied distances and inclines. Subscribe to the AllTrails Pro edition in order to download trail maps — cell and internet service on trails can be spotty.
When you get back down the mountain, if you've got your dogs with you (or even if you don't), stop off at Lazy Hiker Brewing Company in Franklin for some delicious local brews. Dogs are allowed inside and out, you can order food from the food truck in the parking lot, and enjoy the fire rings and adjacent frisbee golf ("frolf") course outside. Time it right, and you can even enjoy live music. A great way to end a busy day of exploration.
Explore and enjoy!