welcome
Immerse Yourself in our Wellness Journeys.
We are happy to welcome you on journeys of mindful exploration and rejuvenation!
Join one of our luxury group Wellness Journeys, offered in off-the-beaten-path locales around the world. Experience a slower pace of travel, where you will find long-lasting rejuvenation, relational connection, and inspiration.

DELIGHT
Delight in the unexpected - you will never feel over-scheduled with Return Refreshed. Tap into your own inner journey as you explore the beautiful destinations we visit. Our Experience Guides will share with you our favorite spots and experiences, but we also encourage you to discover on your own!

DISCOVER
Slow down to immerse yourself in nature and culture. Whether in ocean, mountains, hot springs, or desert, your body will feel the healing effects of the natural world, and our local partners will empower you to connect more deeply with local daily rhythms.

REJUVENATE
Step away from the daily grind and reconnect with yourself and your loved ones. We offer luxury accommodations in stunning locales around the world, full of natural wonder. Our Wellness Guides are here to serve you throughout your entire journey. Come away inspired and refreshed.
PROGRAMS
Take a Journey with Us!
This 6-day, 5-night Christian Yoga Journey for women provides you with intentional space to find your deepest contentment in God.
Hi, I'm Erica!
Founder of Return Refreshed
I'm thrilled to welcome you to Return Refreshed. Be sure to follow along with us for our latest offerings, insights, and inspiration for tranquil living from around the world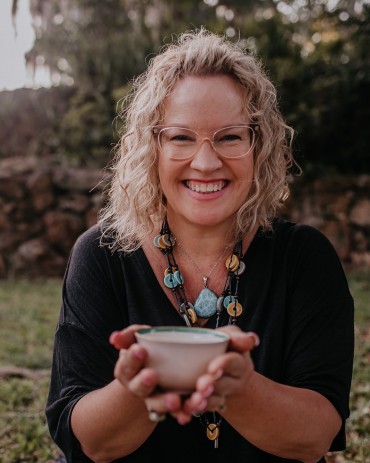 Calling myself the Tranquil Mama is more of an aspiration, rather than something I've truly got nailed down. Can you relate? In today's modern, disconnected, overstimulated world, we can go-go-go at the detriment of our mental and physical health. We "check out" in ways that are not strengthening us. Anxiety and depression are on the rise in children, teens, and adults.
Friends, it's time to heal. It's time to rediscover the strength we have deep within ourselves. It's time to find connections where connections have been lost. It's time to rediscover joy.
Travel, done right, brings whole-person wellness and fortitude.
For generations, my family has loved to wander the world, and from this legacy, my husband and I slowly developed what we call the Tranquil Travel paradigm. For us, traveling has never been a "checking out", but rather a "checking in", a recalibration of calming rhythms, of reconnecting with the enjoyment of life. We have found that through travel, the lessons we learn about ourselves and about our world are … dare we say … transformative.
All of our Wellness Journeys are founded in this Tranquil Travel philosophy of whole-person wellness. But friends, your refreshment is not limited to your vacation time. It should have lasting effects, so we're thrilled to share inspiration for tranquil living with you through our Return Refreshed Newsletter.
Meet our global friends and co-laborers, who have been pursuing tranquil living enriched by their own passions and wellness cultures around the world. Discover more about the gorgeous locales we visit, get exclusive tranquility tips from our Wellness Guides, and explore new wellness activities that you MUST add to your tranquility toolbelt!

I'll be sure to keep you posted on our offerings and incredible experiences awaiting you around the world — so that perhaps you can experience these global tranquility trends first-hand!
Feeling frenzied? Return Refreshed has got you covered.
Exploring Together,
Erica, the (Desperately Seeking) Tranquil Mama
Sign up for our Newsletter