I wanted to take a moment to express my deepest gratitude for hosting the Business Wellness Symposium last week. The event was not only well-organized but also incredibly insightful. Your vision to start this group is truly commendable and aligns perfectly with our core values of inspiring hope and delivering dreams.
The topics discussed were relevant and timely, and the speakers you invited were top-notch. The atmosphere was one of learning, growth, and genuine interest in the well-being of businesses and individuals alike. We found the experience extremely valuable and are excited to apply what we've learned in our own practices.
"I want you to know I thoroughly enjoyed the meditation walk. All the sharing topics made me focus in new ways. In the future, I will view all of the glories of nature differently."
"Erica combines extraordinary listening and visionary skills to create experiences beyond one's imagination. Her intuition and competencies in refreshing the mind, body, and spirit make her business utterly memorable and unique in the "retreat" marketplace. ADVANCE with "Return Refreshed"!!""
"Such a great experience! Enjoyed the beautiful location and the peaceful way of just being with other women and praying for each other."
"I loved that everything was taken care of for me. I didn't have a care in the world, and it was amazing to have that weight lifted."
"So much more than a yoga retreat. Words cannot express how my heart has changed, and how the walls I have built have crumbled. To know my value, my worth. That I am loved, precious, and cherished by my Heavenly Father. I am so thankful."
"Erica arranged my first dream trip abroad to England, France, and Italy. I had never been out of the United States except to Canada and Mexico on day trips so the thought of planning 2 weeks abroad was so daunting. But for her knowledge of, and years of experience traveling overseas, I would not have been able to have the trip that turned out to rank among the best travel experience I have ever had."
"I didn't want just to be a tourist but wanted to be immersed in the daily living of each country, so on top of planning for my "must haves", she opened up new experiences with locations, lodgings, transportation, entertainment, shopping, fabulous local restaurants, and just being part of daily living in each culture. I plan to return to France in 2023 with Return Refreshed and can't wait to experience what she has for me this time."
"Erica combines extraordinary listening and visionary skills to create experiences beyond one's imagination. Her intuition and competencies in refreshing the mind, body, and spirit make her business utterly memorable and unique in the "retreat" marketplace. ADVANCE with "Return Refreshed"!!"
If you are like me and love to travel but get overwhelmed with all the arrangements, you MUST contact Erica. Even if you don't know where you want to go, she will take the time to interview you and discover your travel "style", likes and dislikes, etc. She sent the most detailed personalized travel itinerary with multiple options for travel, accommodations, restaurants, attractions, and even books to read set in the various locations! She is knowledgeable, prompt, oh-so-fun, and easy to work with!
""The Forest Therapy program was very interesting. I think that it could be very beneficial for some folks to help "escape" from the busy world and get re-energized, getting closer to nature and ourselves. It gave a unique perspective of nature and our relationship to it."
"I fell in love with Erica and Return Refreshed from the moment I learned of these journeys. The idea of fully immersing myself in a mind, body, and soul journey speaks to the very core of my being. It is a practice I continue to learn as I pause in nature therapy for ultimate awareness and mind-body melding."
"In getting to know Erica and spending time networking with her, I have learned so much about Return Refreshed and the life-changing services that she provides. In fact, my best friend and I are booking a trip this year! We can't wait to experience our Return Refreshed Journey! We are so excited!"
If you are looking for a place to ease your mind and thoughts, and reconnect with yourself and those closest to you, reach out to Erica. Very knowledgeable and has a passion for helping others. Highly recommended.
As the keynote speaker at our recent Village B2B networking event, Erica delivered a captivating and compelling talk on Wellness Travel for Busy Professionals. Her message hit home and really resonated with the audience and her engagement was delightful and energetic as well. I highly recommend Erica as a speaker for any such events related to her field.
I can't say enough good things about Erica. to be quite honest, I admit that I wasn't the best client. Due to a last-minute availability in my schedule, I frantically called her last minute to squeeze in a quick getaway. I had no real idea of where I wanted to go or what I wanted to do, only that I needed to get away. After only a few brief conversations, Erica design a tailor-made vacation for me with the perfect mix of adventure and relaxation. If it wasn't for her skillful planning, I definitely would have ended up paying way more for my vacation if I'd planned it on my own. Erica is highly knowledgeable, friendly, and cares about her clients. I highly recommend her services to anyone looking for a travel professional.
"Having started my journey to discontinue my nicotine habit of 30 plus years, I shut myself off to engaging with others while I tried to maintain some composure. I chose to attend the wellness seminar in hopes to acclimate back into the business world. I was pleasantly surprised when I found a towel with scented oils for myself / and everyone else. I was really anxious and unfocused, till I was relaxed from the said scented towel. I was instantly relieved; this goes to show if you care for those around you even in a professional setting with individuals you don't know your efforts can have a long-lasting effect. Thank you Erica I am ever grateful for time and care you put into making our meetup such a positive experience."
"That not only is it okay, but I NEED to take the time to invest in myself to be the best wife and mom I can be, because I am worth it."
– Staci
"Being informed makes me feel so much more comfortable while traveling. I appreciated having all that information available to us (especially the Spanish phrases refresher!) It also made the experience feel more personalized and just further gave me that feeling of being loved and cared for by you guys on this trip." – Staci
---
"Loved that everything was taken care of for me. Excellent service. There was a story in the packet about Japanese art that I felt was a God wink. The story was referring to broken plates that were sealed together with gold- much like how Christ works through our brokenness. A few weeks after I came home, I broke a plate just moments before a virtual job interview. I was filled with self-doubt leading up to this interview. [….]  I ended up acing the interview, getting the job, and I bought some gold glitter glue at Hobby Lobby to remember my broken plate moment." – Maria 
---
"It was obvious Erica really cared about our experience and was willing to help in all situations." – Angela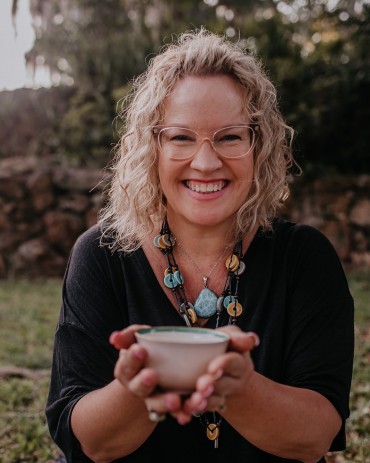 Calling myself the Tranquil Mama is more of an aspiration, rather than something I've truly got nailed down. Can you relate? In today's modern, disconnected, overstimulated world, we can go-go-go at the detriment of our mental and physical health. We "check out" in ways that are not strengthening us. Anxiety and depression are on the rise in children, teens, and adults.
Friends, it's time to heal. It's time to rediscover the strength we have deep within ourselves. It's time to find connections where connections have been lost. It's time to rediscover joy.
Travel, done right, brings whole-person wellness and fortitude.
For generations, my family has loved to wander the world, and from this legacy, my husband and I slowly developed what we call the Tranquil Travel paradigm. For us, traveling has never been a "checking out", but rather a "checking in", a recalibration of calming rhythms, of reconnecting with the enjoyment of life. We have found that through travel, the lessons we learn about ourselves and about our world are … dare we say … transformative.
All of our Wellness Journeys are founded in this Tranquil Travel philosophy of whole-person wellness. But friends, your refreshment is not limited to your vacation time. It should have lasting effects, so we're thrilled to share inspiration for tranquil living with you through our Return Refreshed Newsletter.
Meet our global friends and co-laborers, who have been pursuing tranquil living enriched by their own passions and wellness cultures around the world. Discover more about the gorgeous locales we visit, get exclusive tranquility tips from our Wellness Guides, and explore new wellness activities that you MUST add to your tranquility toolbelt!

I'll be sure to keep you posted on our offerings and incredible experiences awaiting you around the world — so that perhaps you can experience these global tranquility trends first-hand!
Feeling frenzied? Return Refreshed has got you covered.
Exploring Together,
Erica, the (Desperately Seeking) Tranquil Mama
Sign up for our Newsletter