My English roots have made all things tea a necessity, not a choice. I think I may have been born with Yorkshire Gold and Typhoo running in my veins. My tea-drinking habits are deeply rooted in England, where the tea culture has thrived for centuries.
However you like your tea, isn't it such a comforting treat? Herbals, blacks, whites, greens, oolong … Oh, the delight! Over the centuries, and in various areas of the world, cultural habits have been built around the simple custom of tea-drinking. From the Indian subcontinent, to the orient, to the British isles, such variety and depth of rituals are available to us!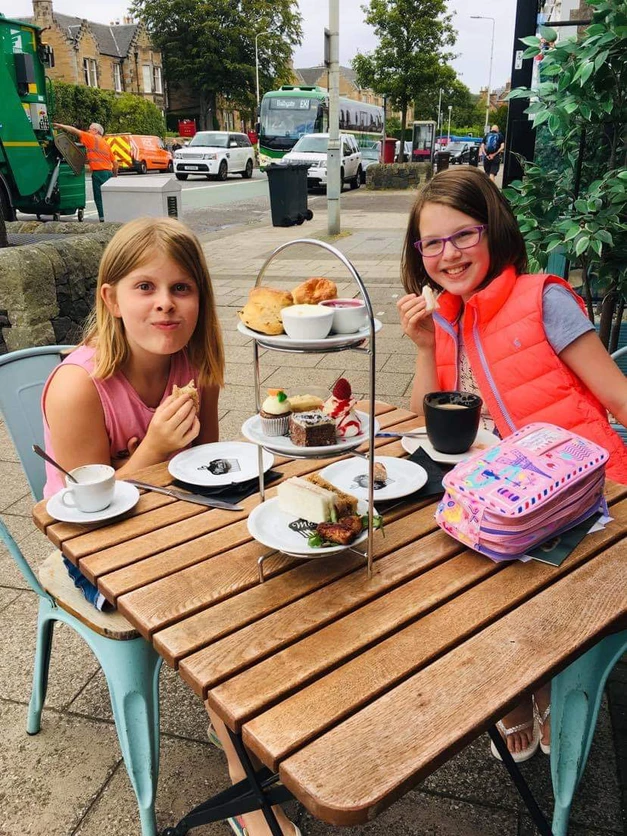 While I am American by birth, my blood runs pure Yorkshire, and our kids are learning just as I did, at their mother's knee. I'd love to share a few basic insights into the luxurious tranquility of English tea customs with you as well! We will focus on three distinct customs that have developed over the centuries: Afternoon Tea, the "Cuppa", and the Cream Tea.
1. Afternoon Tea … Not High Tea, if you please.
Afternoon tea, or low tea, is a decadent, lingering affair, a wonderful way to slow down and enjoy an afternoon with friends and loved ones. It's a lovely social custom that includes delicate artistry in the making and displaying of each tasty treat, as well as in the setting of the table and the serving of the tea.
A simple and elegant afternoon tea
The tradition was begun in the mid 19th century by the Duchess of Bedford, whose tummy routinely rumbled while awaiting her 8pm din-dins (the upper classes now ate late evening meals, thanks to the very elite invention of kerosene lamps). She began to entertain friends in the afternoons, with treats and tea served on low tables (hence the name "low tea"), and the trend caught on as her guests mimicked her hospitality in their own homes. As each lovely lady did her best to one-up the competition, the new tradition grew from a simple snack into the more elaborate occasion we know so well today.
We in America often confuse "afternoon tea" with "high tea". High tea, despite its elevated name, is quite a contrast from the afternoon tea of the upper class. It was actually the hearty evening meal for the working class, who, ravenous, ate immediately after arriving home from work in the early evenings, hopefully before losing daylight. High tea is characterized by hearty, simple, one-plate meals primarily of meat and potatoes, perhaps with Yorkshire pudding and gravy to help fill the belly. Even today, if you are invited over for tea by a British family, for the American this means you've been invited for dinner. If you're invited for a "cup of tea ('cuppa')" or "afternoon tea", this will differentiate from a dinner meal.
I confess I cringe just a little, every time I see advertisements for "high tea" from various American hospitality businesses. As a rule of thumb, if it doesn't include a meat course, it is not high tea. To follow the custom developed by the Duchess of Bedford, it is called afternoon tea, if you please.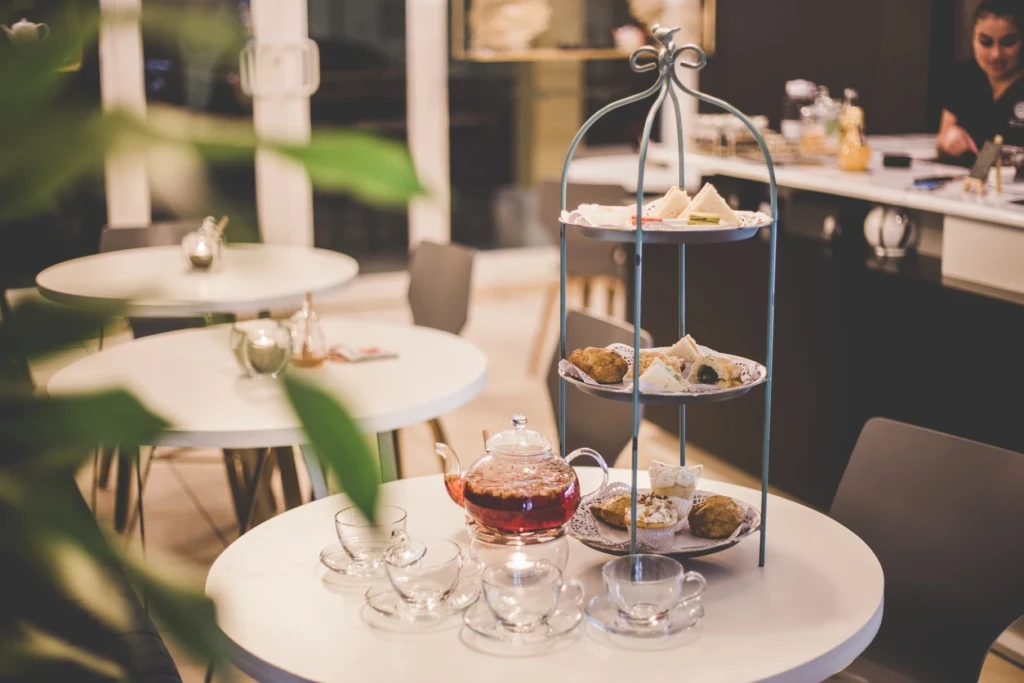 (Side Rant: Please, please, don't make me endure the particular American commercialization of afternoon tea that has been infantilized, perhaps with an overly doily-ed table, and, god forbid, ridiculous hats, tiaras, and fripperies for all the guests to wear. Of course there's a place for playfulness, especially for little girls, but for the most part my mind rebels against the garishness of it all.
Give me an almost zen-like table with white linen tablecloth, three-tiered silver or china serving platter stacked with delicacies — savories and tea sandwiches on the lowest tier, scones and their accoutrements on the middle tier, and sweets or petit fours at the very top. A piping hot tea pot, filled perhaps with assam or darjeeling, at my elbow, and a bone china cup and saucer at my fingertips. Silver sugar tongs and tea spoons at the ready. Warm conversation and simple, polite manners. Now THAT'S an afternoon tea.)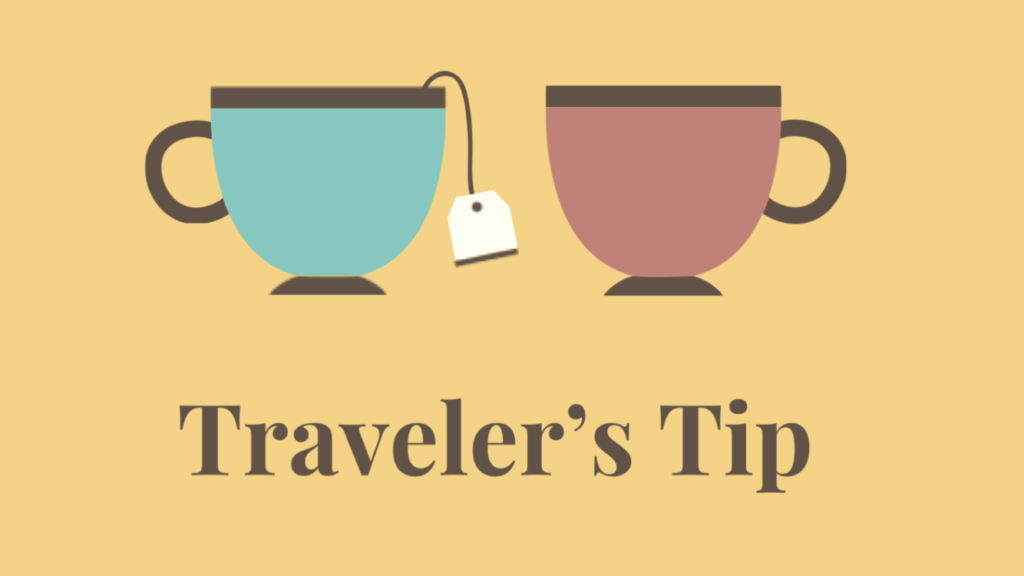 When in Britain, expect to pay anywhere between GBP 20 and £200 per person for a full afternoon tea in a restaurant, hotel, or tea room.
In Yorkshire, Betty's Cafe Tea Rooms offer a delightful (and affordable) afternoon tea starting at GBP 19.95. It's been over 100 years since Betty's first opened their doors in York and in many ways, the traditional and relaxed setting in their tearooms has remained unchanged.
For a lovely and luxurious treat, enjoy the Savoy London's world-famous afternoon tea at GBP 75, or with Rosé, at GBP 95, against a delicate backdrop of soft piano music and silverware gently clinking on bone china.
At Cliveden House in Berkshire you'll pay GBP 550 per couple (half of the proceeds benefit Marie Curie Cancer Care), and enjoy an array of mouth-watering treats such as the rare Da Hong Pao Tea, rich Cognac, Beluga caviar, and Dom Perignon.
2. The Simple "Cuppa"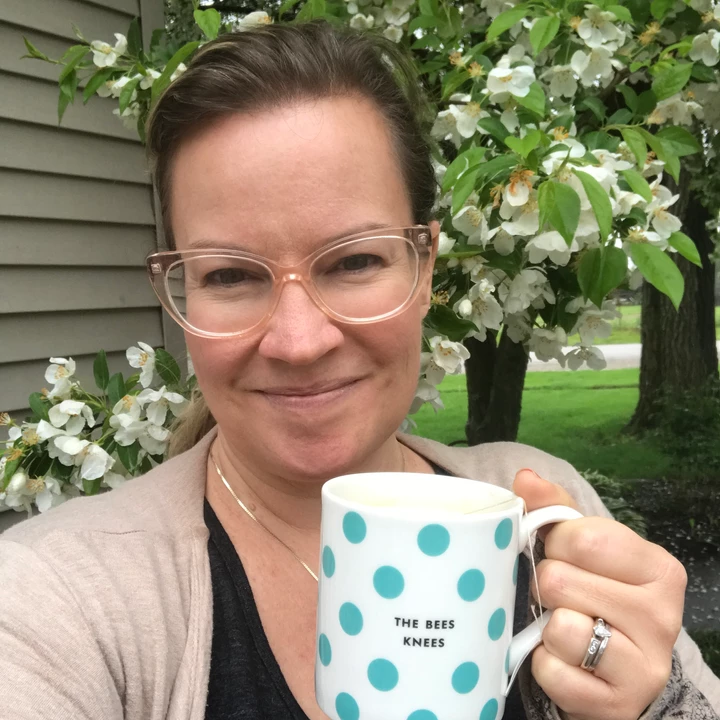 My Yorkshire mum taught me to love a good strong cup of English tea from an early age. She and I continue to linger over a simple cuppa (cup of tea) together on a semi-regular basis. No big fuss. I've actually just enjoyed my own afternoon pause under our flowering tree, pictured here! Just a simple, strong cup of tea, perhaps with a splash of milk and a spoonful of sugar, and accompanied by a nice, dry, crunchy biscuit (or, as Americans say, cookie).
The afternoon cuppa acts as a sort of reset button. Your brain has begun to feel sluggish, and perhaps you'd prefer to wind down for the day rather than pursue productivity. But as you slowly sip the warm, bittersweet liquid comfort, complete with natural caffeine, you discover a perfect mid-afternoon pick-me-up. It resets and bolsters your brain for the last couple of hours of the workday, or refreshes your mind as you turn towards preparing for dinner and evening family life. (Take your tea outside for an extra brain boost from nature!)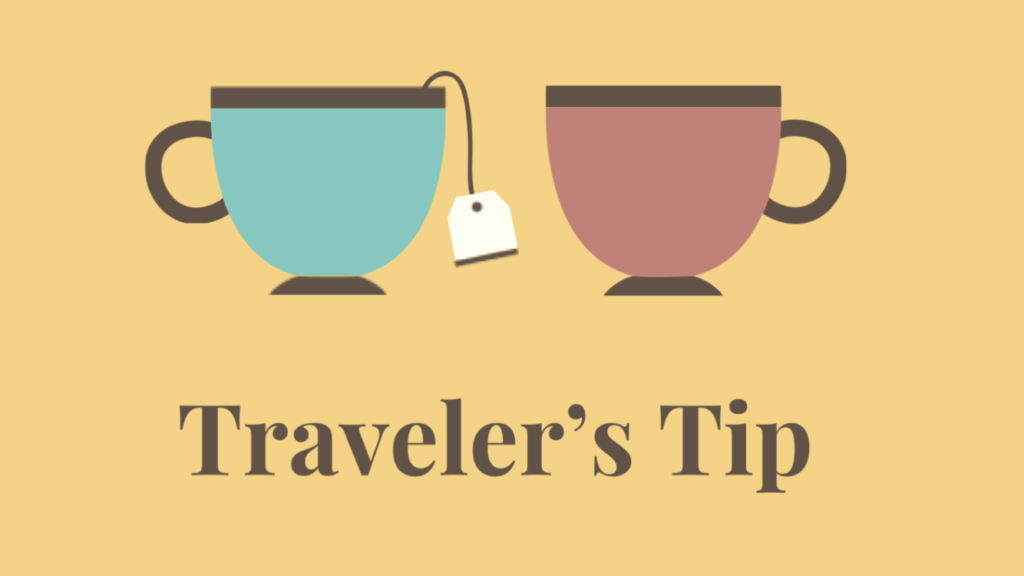 Enter into any British home and you are likely to be offered a cup of tea and a biscuit. If you have the time, accept it. The offer is synonymous with hospitality. A tea and biscuit, together, is a nation-wide symbol of comfort and conviviality. It is a warm invitation to linger, to enjoy comfort and camaraderie, to pause together in your day. I believe the need for a simple afternoon cuppa is hard-wired into every British citizen — the day is not complete without it.
It's a perfect pause for us Americans to weave into our hectic days. Give it a try!
3. Cream Tea: The Happy Middle
Cream tea, also known as a Devon or Cornish cream tea due to its southwest origins, is a beloved treat all over Britain. Perfect for a busy day out, in recent years it has taken strides into the forefront of daily British life. It's a happy middle between a full afternoon tea and a simple "cuppa".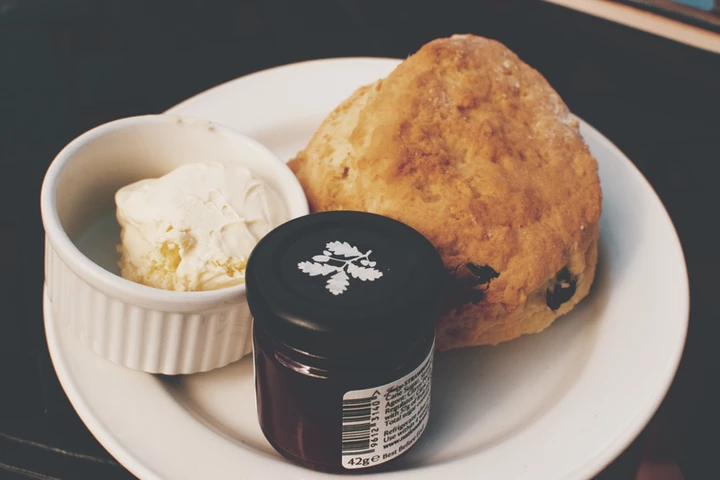 Clotted cream is a favorite in our family!
Cream tea has never been more accessible to the busy British public. You can find it everywhere. On our most recent wanderings in the UK, the kids and I often delighted in taking our afternoon pause, and ordering a cream tea at the local tea room, department store, or coffee shop. With little fanfare and a modest price tag (expect, perhaps, between GBP 5 and 10 per person), we'd be given a steaming mini-pot of tea accompanied by a simple plate of scone, jam, and clotted cream. No fuss, but still a bit of decadence that fills the belly.
English scones (pronounced "skahnz" in my family), generally are very simple. Rarely do you find dried fruits or herbs mixed in, or sugar glaze on top, as we expect in American scones. Usually just a simple, tummy-filling treat, made primarily with self-raising flour, butter, and cream.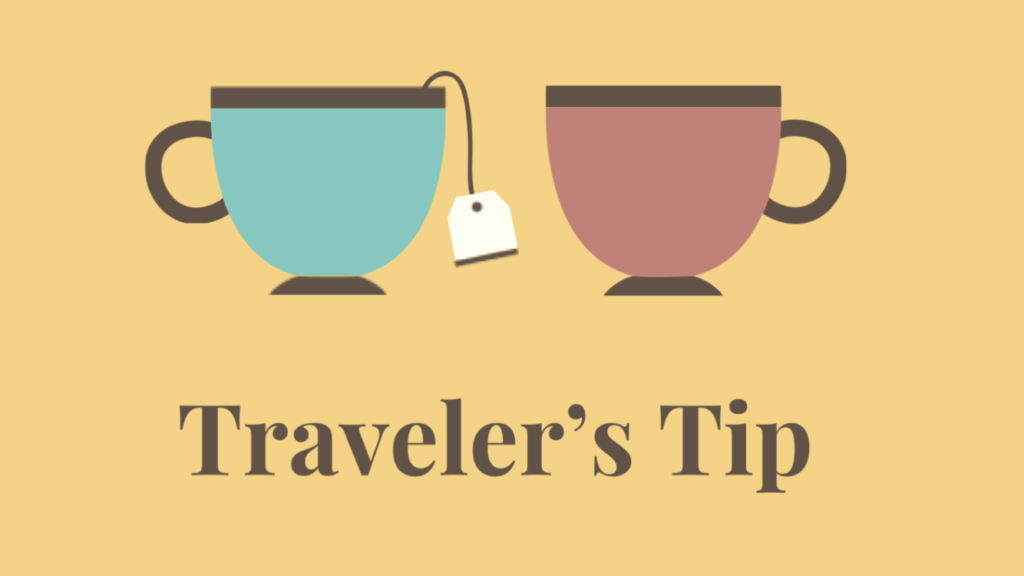 Clotted cream, so hard to find here in the U.S., is a real treat. While it may be unfamiliar, give it a try. With a consistency somewhere between sour cream and cream cheese, clotted cream is a slightly sweet, decadent treat to be savored with reverence. Scrape every last trace of it out of that tiny bowl and onto your scone. (You may have to resist the temptation to lick it out.) Then layer with jam, and sink your teeth in.
So there you have it! A little insight into the British customs surrounding tea. As etiquette expert Leticia Baldrige once described it, "Tea Time is a chance to slow down, pull back, and appreciate our surroundings." However you choose to imbibe, my hope is that you discover the unique pleasure of slowing down to enjoy this wonderful British pastime.